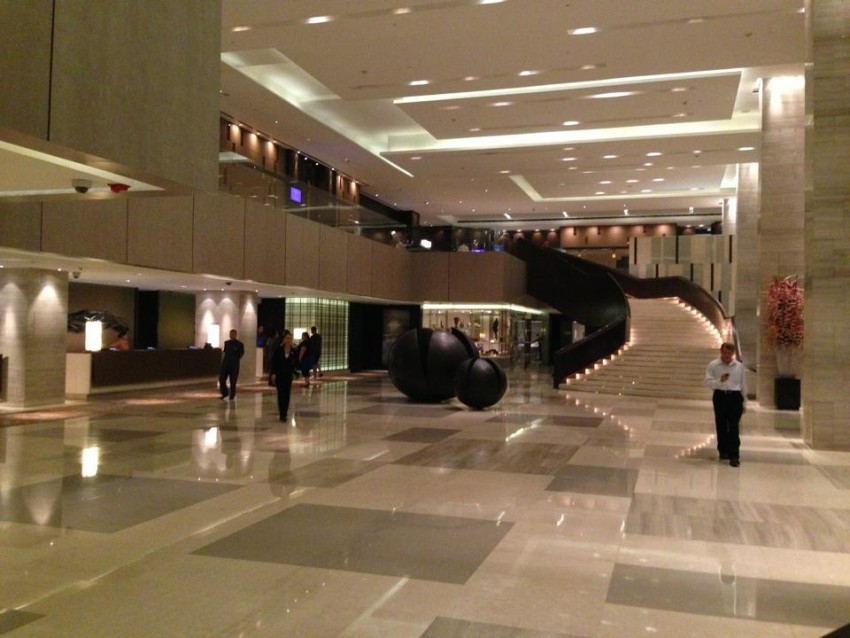 Property: New World Makati Hotel, Manila, Philippines
Stars: 5
Dates(s): 22 October, 2014 – 24 October, 2014
Nights: 2
Room booked: Newly Renovated Deluxe Room Twin
Room received: Newly Renovated Deluxe Room King
Award stay: No
Rating: 2/5
I stayed at the New World Makati in one of the "newly renovated" deluxe rooms in my most recent trip to Manila and had a pretty bad experience. The most significant problem was that the air conditioners did not seem to be working, and the hotel rooms were endlessly sticky from humidity and the air was thick and muggy, creating an extremely uncomfortable environment for the duration of the stay. The sterile and cold executive club lounge ("Residence Club") had little offerings, and at the end of the stay we were charged additional mystery fees. New World Makati was one of my worst hotel experiences of 2014.
Hotel/Room Quality

Service

Club lounge quality

Air conditioning
New World Makati Hotel Experience Summary
Really, really bad room air-conditioning
Residence Club lounge was disappointing
Good service from staff
Charged for wifi even though it is meant to be inclusive
Additional charges on final bill
Hotel was very hot and uncomfortable
Room Quality
Hotel/Room Quality: 1/5
The lobby of the New World Makati was modern and fresh looking, with a lot of space and extremely high ceilings. On first inspection upon arrival, the hotel appears to be in immaculate condition and all the staff at the door are very polite.
The newly renovated rooms had a lovely decor, despite feeling a little bit cold and sterile due to all the whites and greys. We booked a twin room ad ended up with a room with one king bed. However, I told them it was our anniversary via email, so they may have changed the room type for us, or there was just some hiccup and check in.
The room air-conditioning was horrific, to the point where it essentially didn't work at all. The humidity in the room was off the charts, and it made the entire stay rather unpleasant as everything was sticky, breathing became laborious, and it took six hours for my hair to dry after a shower. I am not entirely sure what the issues was (surely they weren't using an evaporative air conditioner in Manila's climate?) but the air in the entire floor was very thick.
I also checked out another floor to make sure it wasn't just an issue with my level, and it appeared to be consistent throughout all the room levels. Air conditioning in lobby and club lounge were fine.
Executive Club Lounge (Residence Club)
The Residence Club lounge was sadly pretty disappointing. Its appearance was clean and fresh, but it went over the line into sterile and cold. There was no food except for biscuits outside of breakfast and evening cocktails.
The Residence Club lounge also did not have table service except for breakfast. All alcoholic beverages were "help yourself" in the evening.
The club lounge food selection was poor across the board — not many options at breakfast nor in the evening. I ended up having breakfast in the lobby cafe downstairs, Cafe 1228, which was far superior — I recommend this over going to the lounge.
I ordered banana pancakes for breakfast in the lounge and it arrived as berry pancakes. No query as to whether this is ok or whether I can eat berries.
That said, service was this hotel's most redeeming quality. Staff were generally pleasant and helpful … mostly. I contracted wet season flu while I was there and requested a box of tissues at the cafe over breakfast from what appeared to the cafe staff manager named Joan. Tissues never arrived.
Additional charges
Reflecting upon my hotel invoice, I noticed I got charged a daily fee for "premium" wifi at PHP 750 (~ USD 17) per day, even though premium wireless connectivity is meant to be inclusive of Residence Club benefits (the authentication portal when connecting to the wifi even says that the premium option is ~free~ for club users.
There were also some additional "room – service charges" on the bill on top of the quoted room rate that were around PHP 1220 (~ USD 27) per day.
I was originally quoted PHP 21,945 including tax when I reserved the room online. My final bill ended up being PHP 29,438.40 even though I didn't use any additional services outside of the bill scope. Very "strange".
Conclusion
While the staff were friendly and polite, and the hotel was impeccably clean, the service offering was poor and the value-for-money was atrocious. I would not stay at the New World Makati the next time I am in Manila.
Update: I wrote a more concise version of this review on TripAdvisor on November 1, 2014, and management replied to the review on November 4, 2014 with the following comment:
Thank you for taking the time to share your feedback with us following your recent stay in our hotel. It is with concern that I have read your comments regarding the poor condition of the air conditioning system in your room. Please allow me to extend to you my sincere apologies for any inconvenience caused, and rest assured that your concern was already addressed.

Your comment regarding the food selection and services in our Residence Club lounge has been shared with both my director of food and beverage and my executive chef for their urgent attention. The discrepancy in your room charge was caused by a glitch in the system and a credit memo has been raised for the corresponding amount.

Mr. Pearce, once again, I would like to apologize for our shortcomings and I hope that you will give us another opportunity to welcome you back in the near future to better serve you.

Sincerely,

Farid Schoucair
General Manager
It is now January 2015 and I would just like to note two things based on this comment:
By looking at the newer reviews of the property on TripAdvisor and elsewhere, there does not appear to be any indication that the air conditioning issue has been rectified at the hotel, as other people are still complaining about it; and
Despite what Mr Schoucair has said in November, I have not received any form of credit from New World Makati nor have the contacted me directly about returning the additional funds they extorted.
Hotel/Room Quality

Service

Club lounge quality

Air conditioning