I planned on writing a blog post about attaching my old Fitbit One to my cat, Java, but it took me so long to write it that Java has now been walking around wearing his Fitbit for more than a year. So instead I'll cover some of the background around attaching the Fitbit One to my cat, as well as having a look at some of the data and trends I have uncovered from Java's 12 months of fitness tracking.

Remember when @zzap joked about taping a fitbit to his cat? *cough* @zzaps_cat

— Scott Bridges (@s_bridges) July 3, 2013
Quantified Cat: Background
Having originally purchased a Fitbit One and loving it, when the Fitbit Flex came out I decided to upgrade to that and retire my Fitbit One. A lot of my friends were still satisfied with their Ones, and I felt kind of guilty just chucking my old Fitbit One into the cupboard — so I figured: why not duct tape it to the cat instead? It would probably be pretty interesting to know how many steps Java does, especially during the day when no one is around the house. I had some big, important, very serious questions in my mind: Does he walk around when humans aren't around? What are his most active hours? How much does he adventure during the middle of the night, when cats are supposedly at their peak? All of this and more could surely be answered by trusty, and available, old Fitbit One.
Why? and also how?
Why not? I had a spare Fitbit and I figured the cat was probably more physically active than me, so why not prove it? To attach the fitness tracking device to the cat, I utilised the following tools:
Simply, I removed the cat's collar from his neck, duct taped the Fitbit One case clip to his sparkly pink collar band, and then reattach the collar to his neck. Worked like a charm.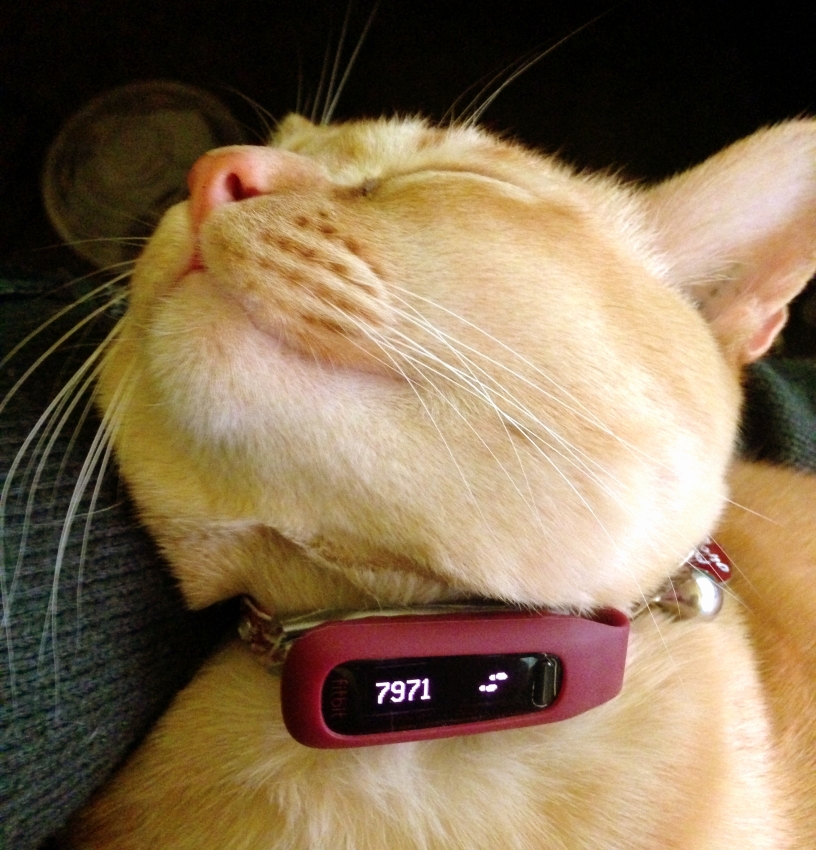 Analysis of data
Having had the opportunity to analyse Java's step count data for over a year now, there have been a number of anecdotally identifiable correlations in his behaviour:
He does approximately 6,000 steps a day.
The upper bound of his steps lies at 12,432 steps on the 31st of August, 2013.
He exhibits regular patterns of movements each day.
 His typical behavior tends to represent something like the graph below: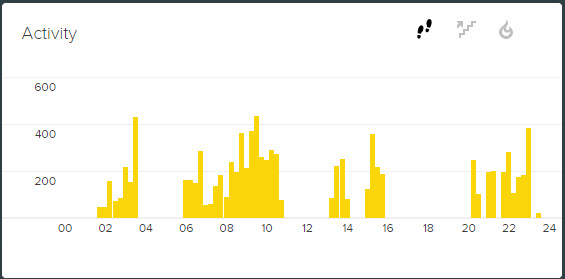 He is active from about sunrise, which is generally around the sametime someone in the household wakes up and feeds him breakfast. He is then active for 4 or 5 hours till just before midday, where he stops for a rest. Waking up and moving around again irregularly during the afternoon, he returns to his slumber usually at around 4 or 5 p.m. till 8 p.m., when he is fed dinner. Then he seems to be active again for another few hours, retiring for a bit between midnight and 2.a.m., where he often display short bursts of high energy and where he gets his highest step count in. It's interesting to note that his highest active time is between midnight and 4 a.m., which is generally the least active time for humans.
When Java escaped
Just been out and about around Brunswick West putting up some missing kitty signs. Keep a lookout for @zzaps_cat. pic.twitter.com/HL0FpoBEqa — пирс дельфин‮ pazz ‭ (@zzap) June 10, 2014
Java is mostly an indoor cat, with access to a catproofed backyard. Java managed to escape from the house for four days in early June, 2014. When he finally returned, I took a look at his Fitbit stats in order to get a vague indication of whether he ventured far from our lot. It was interesting to find that he actually made very little steps during his four days of absense, and generally didn't move at all until the period before he returned home.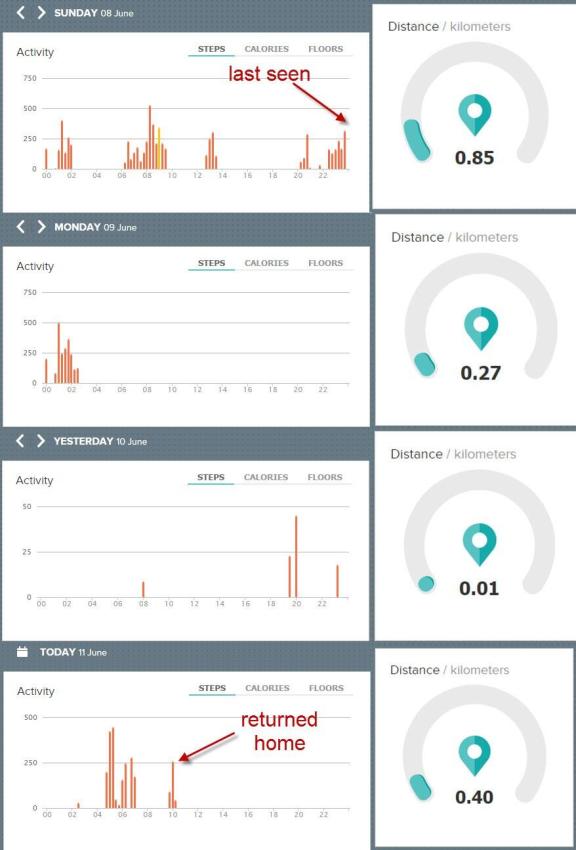 As you can see in the statistics above, there was very little activity from him while he was gone, and even his activity just before he left and just before he returned home didn't exceed 500 steps. This indicates he probably got stuck in someone's garage or some other confined space for a couple of days, before the garage was opened again or he managed to find an escape route.
Future state
It's an exciting time for wearables and quantified self tracking. This also means that there are more options for pets! Thanks to lowering prices of compact smart tech and crowd-funding solutions like Kickstarter, pet oriented life tracking is becoming more common.
A Kickstarter project that I have backed is Pawtrack, which focuses more on locating your cat than just counting its steps. The Pawtrack device is a collar replacement that contains a GPS chip and a SIM card built-in. This enables you to view your cats current location from anywhere in the world through the use of a web browser.
A similar device is Whistle, designed for dogs but could be reasonably used on a cat too. This device, similar to a Fitbit solution, concentrates on tracking the pets activity and rest, as well as having a built in GPS. The Whistle solution looks interesting as the GPS locations of your pet periodically sync automatically, sending your mobile device alerts to significant changes to activity levels (indicating that the pet may have escaped).
New Fitbits
Fitbit recently announced a range of new Fitbit devices selling in three flavors: Fitbit Charge, Charge HR and Surge.
Unfortunately, due to these options not allowing for the device to be detached from the wristband like in the Fitbit One and Fitbit Flex, none of these three new Fitbits seem appropriate for pet tracking. The Surge device in particularly would have been beneficial as it is the first device released by Fitbit that contains a built-in GPS chip.
I'm coming 6th in the seven-day rolling total steps friends scoreboard! Add me & compete! http://t.co/x9hf42AACL pic.twitter.com/Hfd02EYbYf

— zzap's cat (@zzaps_cat) July 23, 2013
Real talk the most consistently interesting twitter account is @zzaps_cat — Sabine Wolff (@sabinewolff) January 3, 2014
Where to find Java — and more!
Twitter integration
One of the features of the Fitbit fitness tracking devices is that you can have your daily steps count automatically tweeted to your Twitter account each night. Having attached Java's Twitter account, @zzaps_cat, to his Fitbit account, Java's account tweets each day the number of steps he has done. Similarly, because I am Twitter addict, my Twitter account, @zzap, also tweets my daily Fitbit steps. I also frequently post photos of Java which his account often retweets. There are also a few other individuals who have attached a Fitbit to their pets, including Ed Hunsinger, who donated his Fitbit to his cat not long after I set Java's up. You can find his blog post about it here, and @bunki_cat's Fitbit profile here. Other spinoffs also include @Tsu_Cat, a Fitbit and Twitter combination account whose owner also liked the idea.
Wanna join the club?
Do you have a spare Fitbit or similar type of fitness tracker and feel like your pet would just love to know how many steps its doing? Put it on them and join the club! There are a number of Fitbit groups you can become a member of, or follow the various Twitter accounts of quantified pets — including Java's Twitter profile: @zzaps_cat.
Welcome, new followers! pic.twitter.com/D8H2N1hdHS — zzap's cat (@zzaps_cat) September 13, 2013
Don't forget to also follow me on Twitter at @zzap, where I occasionally post the musings and photos of living with Java.
The cat could not look any more lazy or any more obese in this pose pic.twitter.com/2CcPxT0FXC — пирс дельфин‮ pazz ‭ (@zzap) August 14, 2013